WHEN representatives of various faith groups – normally at loggerheads with each other and sometimes murderously so – unite against a common enemy, you just know some innocent party will start getting bullied.
This week it was Belgium-based brewing giant Anheuser-Busch InBev SA/NV that got to feel the collective wrath of  Christian, Jewish, Buddhist, Hindu and Jain religions because it sells a brand called Brahma – and has been doing since 1888!
Beers sold under the Brahma name include a lager, a double malt, a wheat beer and a chocolate stout, all named after a smart English geezer called Joseph Bramah, who invented the draft pump valve.
But the unnamed and ooh-so-touchy "interfaith coalition" is convinced that the name belongs exclusively to Lord Brahma, Hinduism's four-headed god of creation, and wants the brewer to find a new name for the product.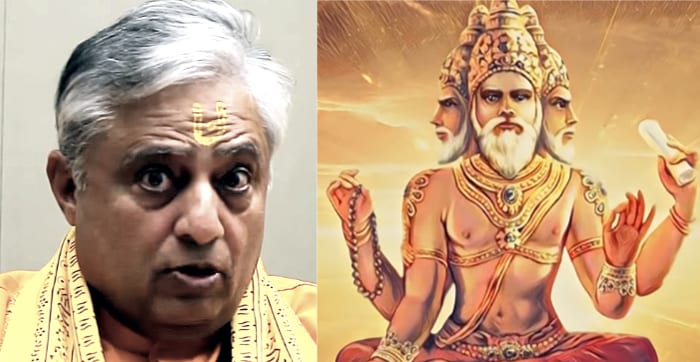 Head of the coalition is notorious Hindu rabble-rouser Rajan Zed, pictured above with the mythological Brama, who bleated:
It is the right time to fix an old wrong – the trivializing of the faith of our Hindu brothers and sisters for about 132 years.
Zed insisted that Lord Brahma is a highly revered figure who should be worshipped in temples or home shrines and:
Not misused as a 'toasting tool'.
He said the coalition also objects to what it calls "raunchy" marketing of the brand by using the image of a scantily clad woman to promote the beers.
Oh, Mr Zed, the company does a lot worse than that! Hop over to YouTube and you can see how it amusingly uses voodoo to promote the brand.
;
Zed added:
Anheuser-Busch InBev should not be in the business of religious appropriation, sacrilege and ridiculing entire communities.
The coalition called on the company:
To prove that it cares about communities by renaming its Brahma beer.
But Lucas Rossi, Head of Cmmunications for Anheuser-Busch InBev's Latin America subsidiary, appears not be be intimidated.
After explaining that the spelling was changed from Bramah to Brahma to make the name work better in the Portuguese language, and that the Brahma brand s "very important to the culture" of Brazil which has a tiny minority of Hindus.
Zed is unimpressed, and insists the name offends regardless of its origins. He huffed:
The stated history behind the name does not reduce the pain of the Hindu devotees when they see their creator god on alcohol cans.
Zed, based in Nevada and is the President of the Universal Society of Hinduism, has campaigned against what he considers the misuse of Eastern religious imagery for commercial purposes for several years.
In 2019, he extracted an apology from a Virginia brewery that produced a beer named for another Hindu deity. The brouhaha erupted after Zed said that associating Lord Hanuman with alcohol was disrespectful.
On July 1 it was reported that the same interfaith coalition launched a separate campaign aimed at pressuring Foundation Room and House of Blues nightclubs in Boston and other cities to stop using sacred Buddhist and Hindu imagery as decor. The upscale watering holes are managed by Beverly Hills, California-based Live Nation Entertainment, which apologised and said it was removing some statues from the clubs.
At the time Zed said:
Symbols of faith shouldn't be mishandled. Hindu deities are meant to be worshipped in temples or home shrines – not to be thrown around loosely in a nightclub for dramatic effect.
Cowardly capitulations to petulant, infantile purveyors of silly superstitions just encourages more of the same sort of annoying snowflakery. They should be dismissed with two words: No prizes for guessing what they are.
Hat tip: Robert Stovold
• If you'd like to buy me a cup of coffee – and boy, do I get through a LOT of coffee keeping this site active – please click the  link below.
I'd love a cup of coffee